Stibbe has appointed three new partners in as many departments as from 1 January 2020. They are Muriël Rosing, Jan van Oosten and IJsbrand van Straten. All three have a long tenure at Stibbe and, according to Managing Partner Derk Lemstra, 'have demonstrated their talent and developed into top specialists in their fields. Their appointments are an important contribution towards our ambition to advise clients on complex, high-end legal questions'. We talked to Muriël, Jan and IJsbrand about their specializations and about Zuidas.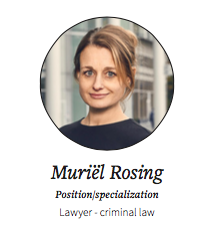 1. You provide legal assistance for companies and directors involved in large criminal law investigations. That sounds intense. Could you tell us a bit more?
Companies and directors can become involved in criminal investigations for all kinds or reasons; perhaps due to work-related accidents or environmental incidents, for example, or during investigations into compliance with anti- money laundering legislation. Criminal investigations usually come as a surprise to clients, and force them to take decisions on issues they've never had to deal with before. I help my clients through that hectic time and guide them throughout the judicial investigation to bring it to the best possible resolution.
2. What's your favourite spot in Zuidas?
I like to go out for dinner. When I started my job in Zuidas in 2006, there weren't many places to eat yet. That's changed now, with great new restaurants. One of my favourites is Gijsbrecht, where during the summer they have a lovely terrace overlooking the water where you can take a little break from work.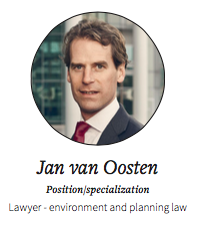 1. You're a spatial planning lawyer and advise Dutch and foreign firms and governments on complex and large-scale urban and suburban area developments. What large urban developments are you involved in at the moment?
One of the urban developments I'm currently involved in is the realization of Sluisbuurt at the western tip of Zeeburgereiland. This is a new, sustainable neighbourhood along the IJ where the city is building 5,500 houses plus schools and amenities. I'm advising the city on this project. I defended the zoning plan for the neighbourhood with city officials before the Administrative Jurisdiction Division of the Council of State and they've just declared all appeals unfounded. That means the zoning plan is now final and work can begin.
2. How do you envision the future of Zuidas?
Zuidas is by far the most attractive location in the country for domestic and international business. The development of Zuidasdok and the extension of the Noord/ Zuid route to Schiphol will only go to solidify this position. Stibbe is one of the district's oldest 'residents', and we're here to stay!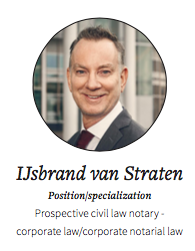 1. You've worked in London and New York. Is Zuidas as international as those two metropolises?
Amsterdam, including Zuidas, has become much more international in the six years I was in London. For one thing, there are many more expats living here now. That's noticeable at our firm, too, where a growing share of the lawyers aren't Dutch. They work in our global practice on international arbitrations, M&A, finance and competition cases. Zuidas has also scaled up with lots of new companies, businesses, gyms and an international range of restaurants (like Poké Bowls) that have established here.
2. What's a hot topic in your firm at the moment?
Employee vitality is a hot topic. Our vitality programme is helping to boost staff fitness through education, coaching and monitoring. More than three-quarters of my colleagues have already taken part. It seems to be working – we're delighted to be ranked among the 50 fittest companies in the Netherlands.