In mid-October the Supervisory Board of Hello Zuidas had a changing of the guard, with Pauline Bottema-Sanders coming in as the new chair. We talked with her about her new role and the future of Zuidas.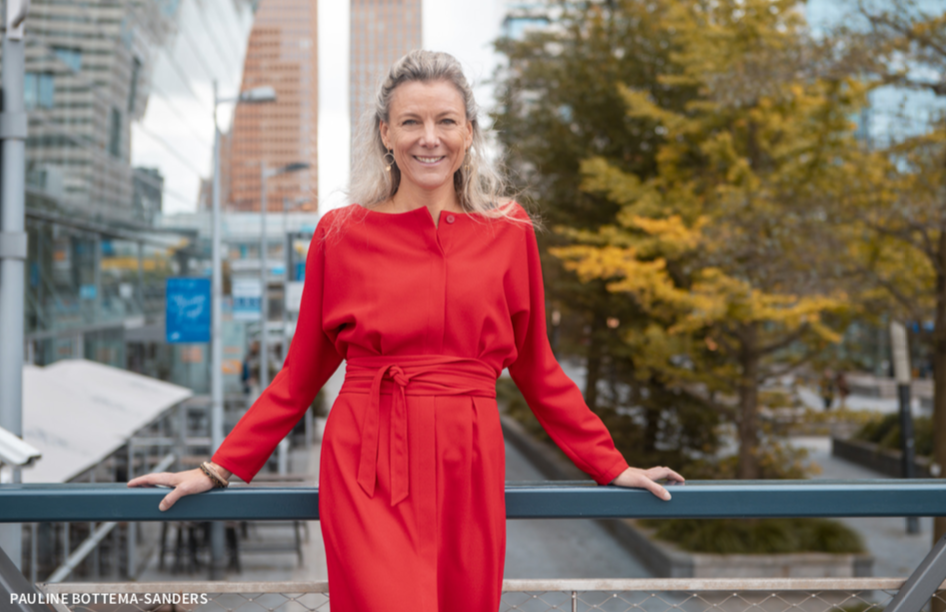 How does it feel to be stepping into Josja van der Veer's shoes at Hello Zuidas?
'It's a real honour! Josja headed the Supervisory Board for more than six years. In that period, both the Hello Zuidas Foundation and the Zuidas district have grown exponentially. Josja was incredibly active in her role as chair. She and Olivier Otten set up a solid organization that promotes the interests of an impressive group of 465 members so far. I'm looking forward to keeping us on that upward track.'
How do you envision the future of Zuidas and what role do you think Hello Zuidas can play in that?
'Zuidas is a unique part of Amsterdam. It's a financial centre that's seeing tremendous development and where more and more people are coming to live. That blended use means we have to think carefully about the amenities we'd like to have here in Zuidas. In representing the interests of a wide diversity of members, Hello Zuidas finds itself in an excellent position to offer the right mix of amenities.'
Hello Zuidas is working to shape a pleasant living and working environment for everyone in Zuidas. What do you see as the biggest tasks facing the district?
'The ongoing development of Zuidas means accessibility and mobility will remain a major concern in the time ahead. Because of that, we'll be keeping a close eye on the plans surrounding Zuidasdok. Aside from this logistical challenge, residential integration will also be a key objective for the district in the coming years.'
The events industry has been among the hardest hit by the coronavirus crisis. Just recently, RAI announced it will have to reorganize. What do you foresee for RAI?
'At RAI, we believe in in-person interaction and also that the need for such interaction won't change. That said, this coronavirus crisis means you have to regroup. We expect that and also that purely in-person events, we'll be seeing more hybrid events as well. We're experimenting with such hybrid forms in our current events.'
Do you think the impacts of the corona- virus pandemic will leave a lasting mark on Zuidas? For instance, because of the recommendation to work from home?
'Yes, I think the effects of this crisis will be noticeable for a long time to come. Companies are finding out that working from home is doable and that it also has its advantages. We're aleady hearing about organizations that want to switch to partial working from home permanently. That will lead to less office space, and I expect economic developments will also reduce office demand.'
Numerous initiatives over the past years have transformed Zuidas from a business district into a modern urban neighbourhood. Is there a successful end point for the district, in your view?
'I think the city will always continue to evolve, albeit at a slower pace. And, because of that, I expect there will always be a role for an organization like Hello Zuidas that promotes the interests of area users.'