Interview with Annelies van Eenennaam, executive board chair at the Gerrit Rietveld Academie
The Gerrit Rietveld Academie is a premier school for the arts, training talent from around the globe for artistic careers. Recently, the academy completed a major addition to its premises on Fred Roeskestraat. Executive Board Chair Annelies van Eenennaam regards this expansion as part of her personal legacy. We talked to her about how the school has changed during her eight-year board tenure and what challenges lie in store for the future.
Annelies, can you tell us a bit about your background?
"After studying architecture and construction management, I went to work in the business side of the architecture world. As managing director at Mecanoo, I had the opportunity to help define and grow with the firm, and a few years later a partner and I set up a firm of our own, first in Rotterdam and then also in Hamburg. That was amazing, because you can shape your operations however you want. After ten years I decided it was time for something different and worked as an independent consultant to architects and artists. That was fun, but I felt like I was missing out on the action. Then, thirteen years ago, I came across a job opening for a director of operations at the Rietveld Academie. When the head of the school retired a few years later, a new Executive Board was appointed, with three main members, including me."
What have the last thirteen years been like for you? Has the academy changed much in that time?
"It's been amazing to be part of this community. The core of the academy, in terms of education, is unchanged, but the content has evolved over time. The curriculum of the Rietveld bachelor's programme is still structured around the same educational components, with a foundation year to start and then twelve specialized departments including glass, fashion, graphic design, and photography. The school has a large number of workshops where students can produce their work. We keep up with advances, adding spaces for working with 3D printers or robotics, for example. The main change during this board term is that we developed cross-overs between various different departments. Previously, lecturers in different departments sometimes didn't even know each other. We wanted to tear down those walls. And that's what's we're trying to do with the academy as a whole. Forging stronger and more visible connections both internally and externally is an important objective for the future."
The Rietveld Academie recently completed a large new addition. Notably, teachers and students contributed to its design. What is this location like? Does the addition live up to expectations?
"We are thrilled with our fantastic new building. This expansion is part of my legacy, and I couldn't be prouder. I started on this project before my term on the board began and, given my background, it was very special to be involved in. It's a truly extraordinary building. It won the Dutch Architecture award as well as a special mention for the 'Golden Pyramid' for excellence in commissioning work, as we sourced it to our own community. Alumni sometimes tell us they have a hard time getting work, so this was a way we could showcase their incredible range of skills. With the right kind of support, it can thrive, even if it means investing some time and energy."
Do you think there needs to be more interaction between the Rietveld Academie and the surrounding community, including Zuidas? If so, in what areas?
"That's certainly our ambition, at least insofar as it maps onto what we're teaching. In addition to theory, the academy also does 'makers' research'. These projects are special, but it's important to reach out more so we can do a good job of presenting them to the outside world. This will continue to be an urgent issue and a challenge for future years. What can we do to unite these worlds and foster mutual understanding?
''With the right kind of support, the people of the academy can thrive, even if it means investing some time and energy."
We're working with other universities to better understand and reinforce each other. Connecting with organizations in Zuidas is proving to be quite a challenge. Its diversity is a great feature of this district, but creating internal synergy remains a key objective. Our students are budding artists who have limited chances to be taken up in the art collections of major companies in Zuidas. That's understandable, of course, but it's also important to give new artists opportunities to develop and show their work. I've been nurturing an ambitious dream to do an arts-based study project about Zuidas. It would be great if we could get students from abroad and closer by to come over and collaborate with our own researchers and students on that."
Where and when can we get acquainted with the students and their work?
"Every year, there are four events where visitors can see our students' work. Our year-end exhibition is from 6 until the 10th of July this year. We'll be clearing out and cleaning up the whole building to serve as a museum. It offers a great opportunity to view the work of a new generation of visual artists and designers. We're also presenting a theory programme with a show to go along with it at the Stedelijk Museum, titled Rietveld Uncut. Our Open Day is another opportunity to come take a look. We are also presenting a Fashion Show on Friday June 24, each year at a different location, where graduating students of the Fashion department will present their final work."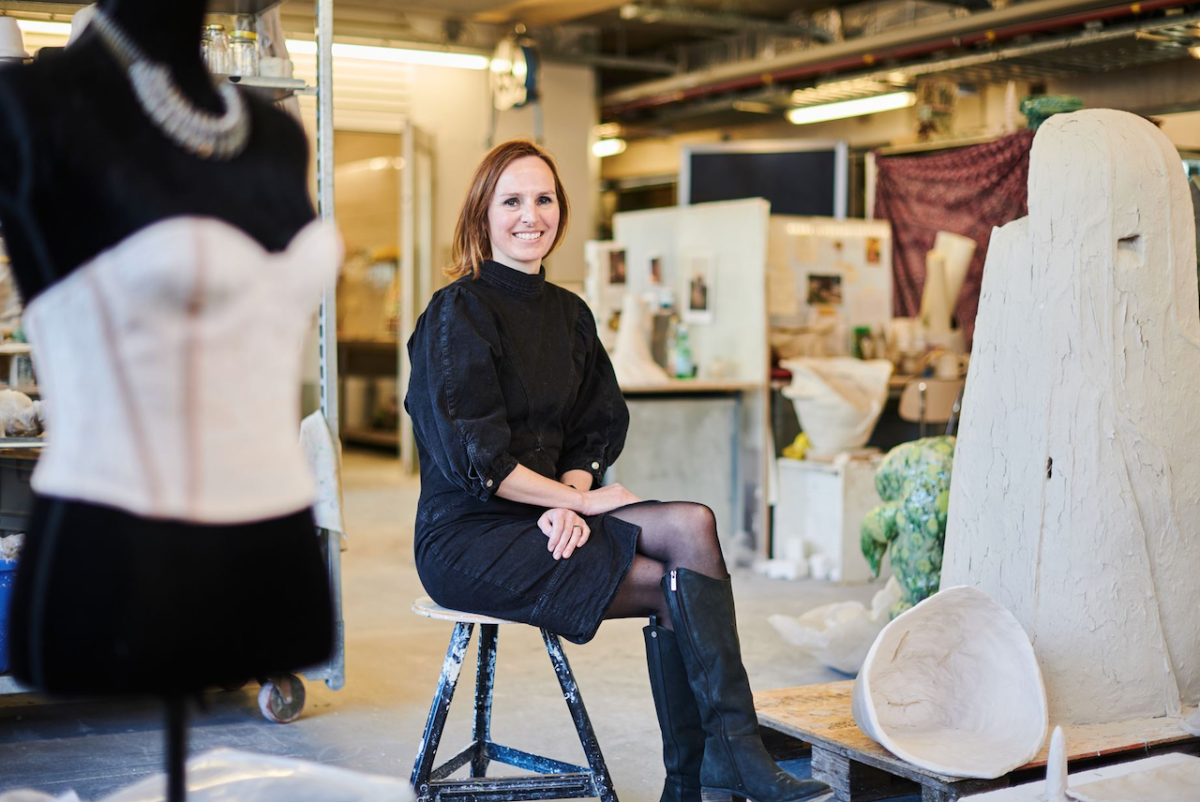 Is there anything else you'd like to share with readers of Hello Zuidas?
"Zuidas encompasses quite a number of professions that require continuous education. That's not universally true, and I admire it. I also think it can foster connections. Ideally, you're learning from your work and your development all the time, about any number of themes and topics – social dynamics, transgressive behaviour, diversity and inclusion. For the Rietveld Academie, it's vital to break with the perception that the art world is primarily elitist and white, and to make room for diversity. These learning processes are very interesting to tackle, both for me personally and for the field as a whole. It pushes people to always keep looking at openings for development, not only professionally, but on a social level as well. September will mark the end of my official eight-year term on the academy's board. Education is something I deeply value and enjoy, but I'm open to lots of roles, as long as it's something I can really sink my teeth into."