''The office is changing, we help you change''
"Two companies, two different sectors, one comprehensive partnership and solution: from their shared 'experience centre' in the WTC Amsterdam, NDI ICT Solutions and Ditt. With their young and dynamic teams, the two partners take all the hassle out of relocating to or within Zuidas. Hello Zuidas caught up with Nick Nolthuis, now in his 14th year at NDI ICT Solutions, and Frauke Bakx, who's been with Ditt. Officemakers for five years, about their successful partnership in Zuidas.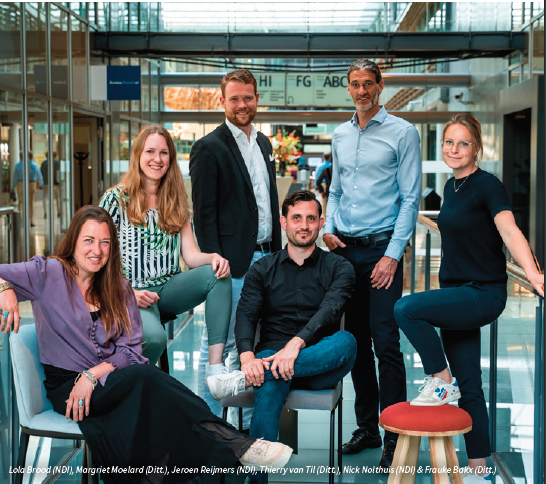 How did NDI ICT Solutions and Ditt. Officemakers come together, and what demand does your partnership satisfy?
Nick: "The demand among clients was for someone to take care of everything. For companies moving from one location to another, there's a tonne to organize. Clients and tenants often overlook aspects, because relocations are such massive projects that there is a whole laundry list of arrangements to make. Thanks to the years of knowledge and experience we've built up, we can offer a comprehensive package." Frauke: "In business, time is very precious, of course. So, it's great if we can cover most of the bases in the initial meeting with our team. That's why we literally all get together at once, so no time is wasted. International clients in particular appreciate that."
You offer companies a 'high tech' view on the future, most notably with a whole host of futuristic working and workplace options. Could you give an example? Frauke: "In our experience centre, located in our WTC-office, we can show clients different options, and via our 3D designs with VR glasses, they get a very clear impression of what we can do for them. Visualisation is so important. At the moment we're working on Tower Ten, the new WTC tower, specifically on the layout of radiant ceilings. As we were involved in this big project from early on, we were able to map out the building from top to bottom, including all the technical systems. That saves loads of time as well as money." Nick: "In many buildings there are rules that suppliers have to follow. We work with the property owner or manager to draw up a full overview. Together we've designed and furnished so many offices over these past years already, that we've got lots of experience, know exactly which points and services need to be considered and how this is part of our overall planning. We have joined forces and pooled our knowledge to improve cost efficiency and speed, resulting in a quality boost and a better, more cost efficient project overall."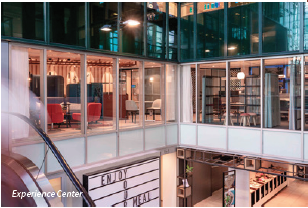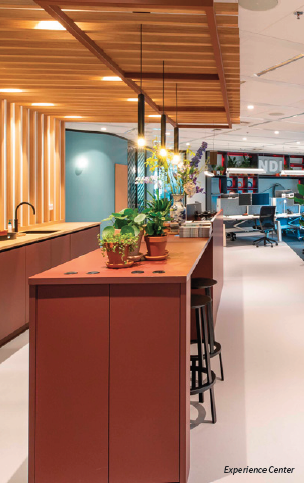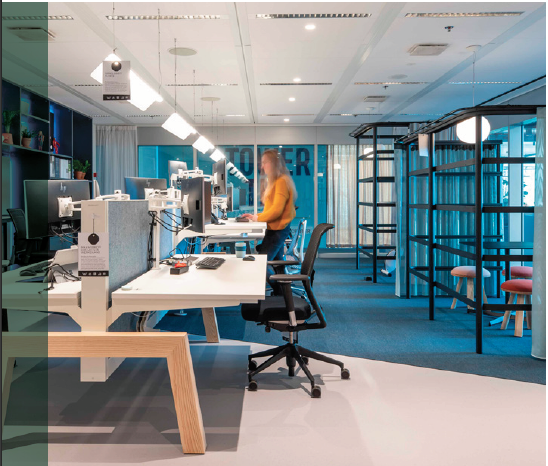 When a company relocates to or within Zuidas, that can generate some internal strains. What's important to your clients?
Frauke: "Not getting bogged down in details. We've noticed that when clients come to us having heard about our approach from others, they already know what to expect. We help from A to Z. We keep an eye on the relocation and can coordinate that, if desired, and we remain involved straight up through the delivery. So everything within that, we organize." Nick: "What works best for us is if we get the keys and then return them after a certain period. We don't want to bother anyone with day to- day hassles, though of course we do provide interim updates. This way, clients can focus on their own core activities, and that tends to be a welcome relief for them."

The Experience Centre is open and accessible to all! Feel free to wander in and check it out, try and test things, and see what the future has in store for offices, especially after the coronavirus pandemic. From now on, our doors will stay open!