PUPILS DESIGN SUSTAINABLE RAVEL COMMUNITY
Pupils at Vossius Gymnasium were recently asked to come up with ideas for Amsterdam's new Ravel neighbourhood as part of a 'sustainable area development' class the secondary school offers. The teenagers talked to experts, did field research and presented their ideas to a panel of judges – who were duly impressed.
On a Thursday evening in early June, the Amsterdam Zuidas Information Centre was abuzz with activity. Pupils from Vossius Gymnasium were scheduled to present their sustainable development vision for the Ravel neighbourhood to an audience of teachers, parents and Amsterdam municipal experts. The judges, who included geography teacher Ivar Drost (Vossius Gymnasium) and chief designer Paco Bunnik (Zuidas), were pleasantly surprised.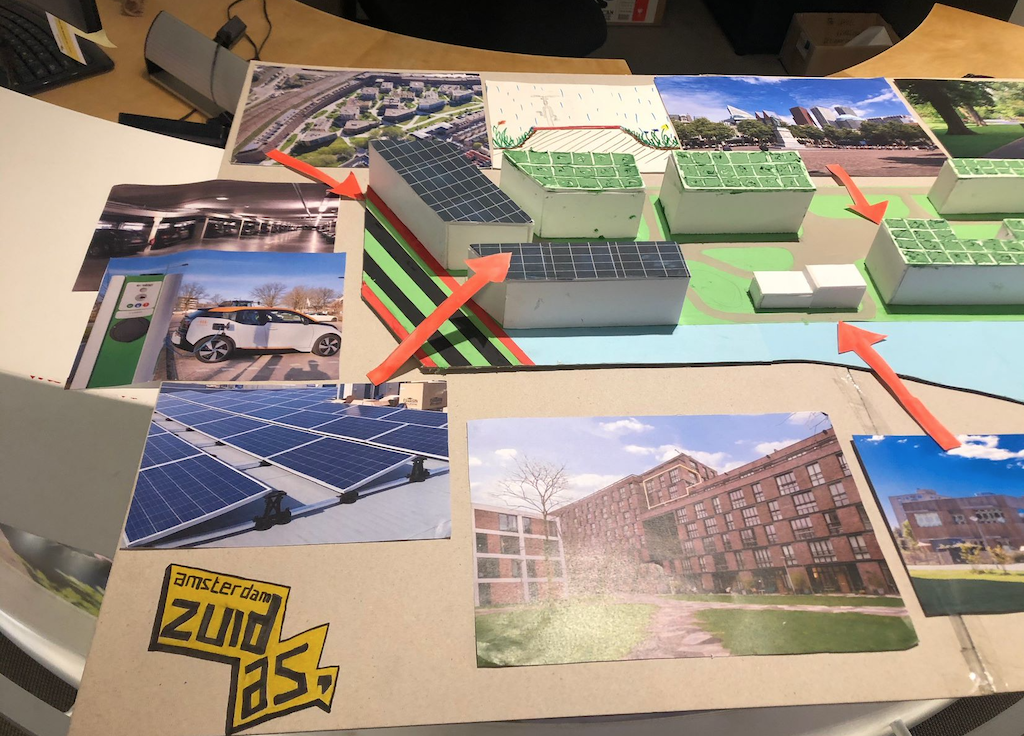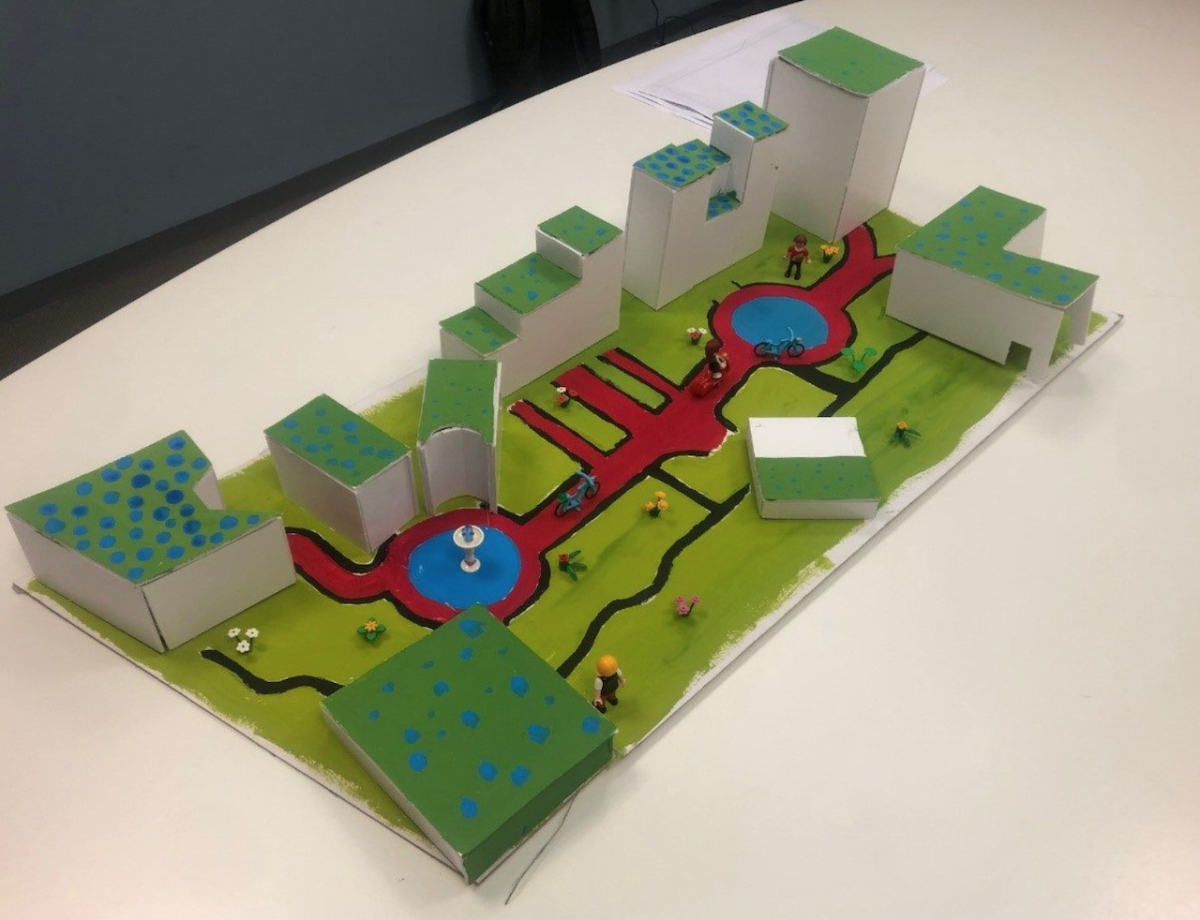 Studying sustainable development of Ravel
Climate change is a big – perhaps the biggest – challenge of our time. Pupils taking the sustainable area development class at Vossius Gymnasium investigated how urban design can help shape a sustainable future. Fourth-year pupils specifically zoomed in on Ravel, a new residential neighbourhood under construction in Zuidas. They got workshops at professional organizations and talked to urban planners and landscape architects. They learned how to draft technical designs and build scale models. They also explored circular building and the energy transition, and conducted their own field studies.
Liveability vital for sustainability
Then came the final presentation to a four-judge panel. Like true professionals, the pupils set out the whys and wherefores of low-traffic communities, water-retraining green strips (acronymed 'WADI' in Dutch), rooftop gardens and the use of circular construction materials. Most impressive to Zuidas chief designer Paco Bunnik, however, was that they had clearly also put careful thought into local quality of life. Art, a jazz café and public school squares were all conceived to contribute to community building. Which – the youthful urban planners stressed – is a vital part of any sustainable neighbourhood. After all, liveability is part of sustainability, too.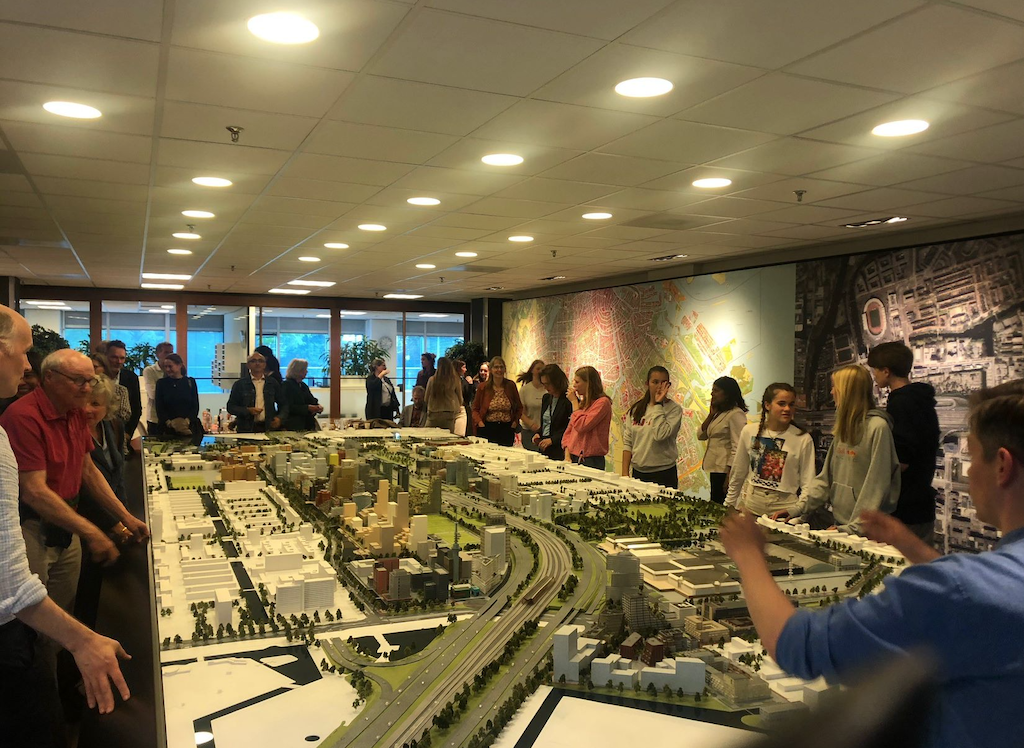 Source: www.zuidas.nl