'GREEN REAL ESTATE IN TRULY GREEN SURROUNDINGS'
The renewal of the area between Amstelveen and Amsterdam is steadily taking shape. The neighbourhood already has many ingredients for a healthy mix, including sport facilities, schools, offices and hotels. Anne Meijerhoven of Zadelhoff Beheer and Tom Hilderink of Maarsen Groep are working hard on the development of a new green office building in truly green surroundings. Adjoining the Kronenburg Campus, this new office property will be an accessible link with Amsterdam's Zuidas.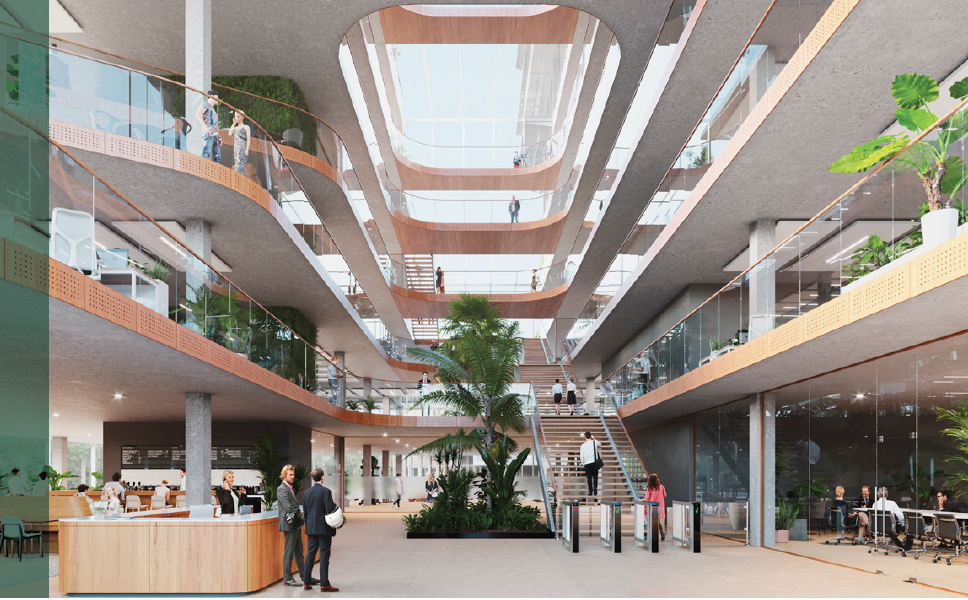 The new eight-storey office building will add yet another element to what is becoming a more mixed district. The partnership between Zadelhoff Beheer and Maarsen Groep complements the vision for a building that's open and engages with its surroundings. Anne explains, ''In the past, every large company built its own building to show how well it was going, but there was no cohesion between buildings. This new office property will be more outwardly oriented to attract more visitors. And with a public amenity of some kind, say a restaurant, to create more engagement.'' The new zoning plan for this area offers space for 2,500 additional student residences. Then this is the largest campus in Europe. Openness and transparency will help create a spacious and dynamic character here.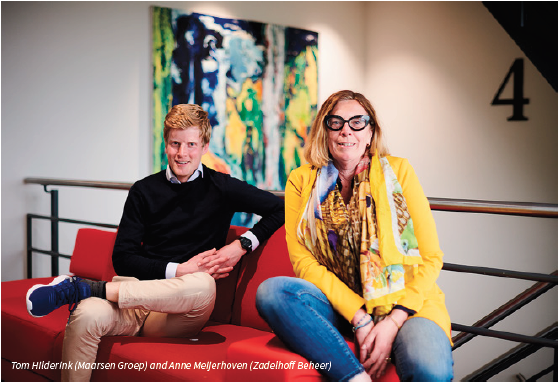 Share culture
That openness is central to the building's design, done by architectural agency de Architekten Cie. Though the building is a focal point, the eco-minded design allows it to blend into its green surroundings. According to Tom, the atrium will be the grand unifying factor in the new multi-tenant building. ''At its heart is a huge green atrium connecting all the floors, with beautiful stairways.
"This will be a beautiful new building and an ideal place for tenants who care for the well-being of their employees"
One of the things we want to facilitate on the ground floor, is meeting rooms. We want to position these additional facilities at ground level as a further impetus for gathering and sharing." That's key, agrees Anne, because offices are now functioning more as places to meet and share knowledge."
Walking distance
It's a misconception that Amstelveen is far removed from Amsterdam. But when you get to know the area better, you realize it has all kinds of advantages, Anne points out. "For a prospective tenant, this location has a lot to offer. Zuidas is just a ten-minute bike ride, and rents are substantially lower. Gelderlandplein and the centre of Amstelveen, with its shops, are close by. There's capacity for 150 cars in the basement, and the building also offers fast, easy transit links, being ideally situated between several motorways and near the new Amstelveen tram service."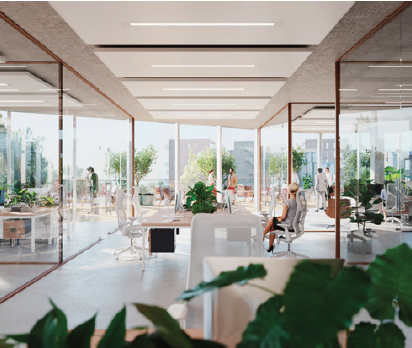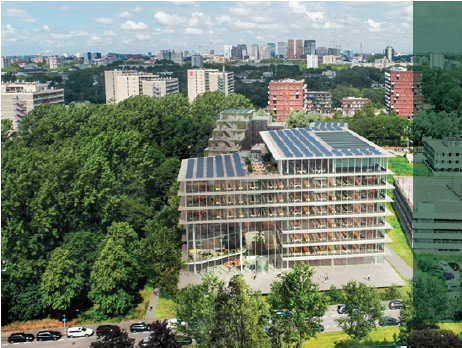 Energy neutral
Amstelveen has a reputation for being green. Kronenburg Campus is literally surrounded by green spaces, and the building's sustainable design is in perfect harmony with that. Tom: "One of the main trends now is that people want to have outdoor spaces close to their workplace. The big paved world is a thing of the past. People also want to bring planting indoors to create a sense of nature in their work setting. This building is also energy neutral. That means it's been designed to be sustainable, with components like solar panels. The future user will enjoy plenty of benefits from this green building in truly green surroundings."