Amsterdam International Community School: LEARNING IS AT THE HEART OF EVERYTHING WE DO
At the Amsterdam International Community School (AICS), creating community both within the school and with the neighbourhood is central to its mission. This growing organization will open a new campus on Arent Janszoon Ernststraat in early 2022 and is looking forward to a period of strengthening its core. Principal Rynette de Villiers says there are too few hours in the day to get to all our ideas, but also that the whole team is brimming with positive energy and enjoying every minute.
AICS has been in a perpetual growth phase. Soon, the community school will have three campuses altogether, two of which are under development and will accommodate over 1,300 pupils. Rynette de Villiers has been principal for just under four months and is very excited about the prospects to make a difference on a large scale. "It's a challenge at multiple levels in this city that I love and have called home for 18 years. I've seen many things change in the course of my teaching career, both locally and nationally. The biggest change is that Dutch education is steadily moving closer to international education."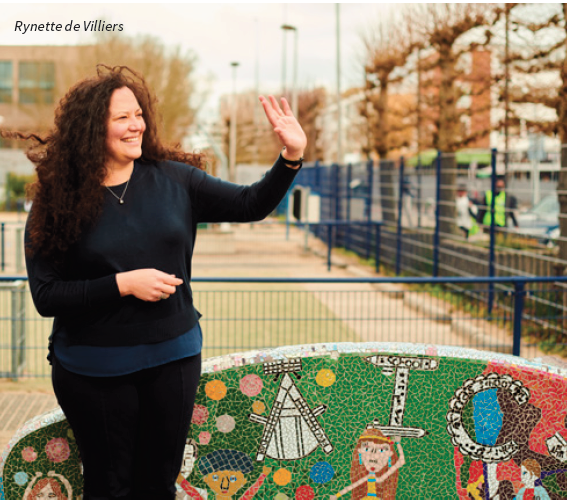 Less is more
In the Netherlands, a shift seems to be taking place at various levels of education. According to Rynette, towards more inquiry-based learning methods. Primary schools are doing more learning through play and secondary education has become more focused on compentencies. "It's in the school-leaving examination that Dutch and international education feels restricted. At community schools, there's also a visible change towards 'less is more'. By that I mean that qualitative learning is taking precedence over learning large amount of contents. It's much more about skills; how you approach learning and teaching." Also increasingly important is that pupils have a measure of flexibility and adaptability to changes. The future is uncertain, but authenticity and a growth mindset are key attributes.

Growth mindset
To Rynette, lifelong learning constitutes a way of thinking and behaving where you're open to changes and willing to take on challenges. AICS encourages this through opportunities for its entire community of pupils, parents and staff. "For parents, our community represents a big share of their network. It's important that we support our community with a holistic approach. That means not only learning about a topic but working to become a better person as well." For staff, AICS offers a development programme to also help them master soft skills and become part of a lifelong learning community.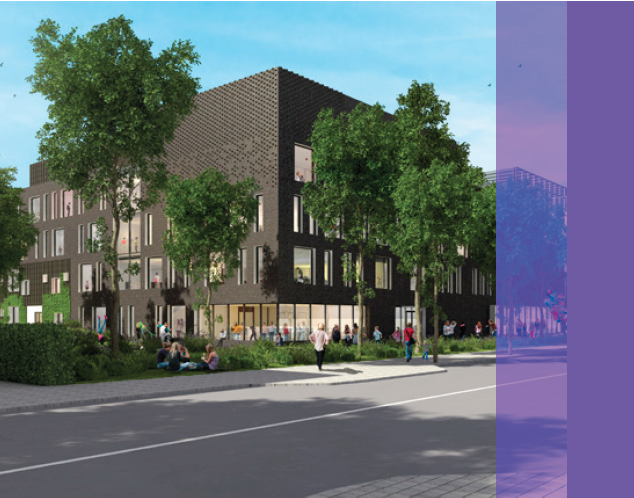 Community
Flexibility and adaptability to change is also a feature of the IB programmes taught at AICS. Lessons are developed in a framework that is filled in by teachers. This approach emphasizes the essence of a subject, so the curriculum easily translates to different countries. Rynette: "Learning is at the heart of everything we do. That's the mission and vision of our school. We're very much looking forward to innovative and mutually beneficial projects and partnerships with the Zuidas. As well as our Green Business Club membership and close ties with VU Amsterdam, we'd like to expand our presence in the Zuidas community. It's that sense of community that's vital to our pupils." For AICS itself, good relations with neighbours and the neighbourhood are also tremendously important. Once open, their World Caf  and library will be open to the public and offer a place where pupils and the neighbourhood can congregate.