"I'm in love with the cosmopolitan vibe"
Valley may be a world-class icon, it has also captured the eyes of many in Amsterdam. Among them was Hella Huizinga, who was thrilled to land a place here in Zuidas last year. A seasoned businesswoman with her own company – Hella Huizinga Wedding & Event Design and My Greatest Rentals. – and one of the faces of the hit show The Real Housewives of Amsterdam, she is always on the go. With all that rushing around, she loves nothing better than to unwind in her own oasis with her cat, Tiger.
Hella, can you tell us some more about your background?
"We lived in the east, specifically in Enschede, until I turned 11. After that we moved all around the country, on account of my dad's job, until finally settling in Dordrecht. Amsterdam always drew me, and after moving here at 23 I knew I never wanted to leave. I'm a real city girl. And now I've had my company, Hella Huizinga Wedding & Event Design, for 16 years. I started out training to be a teacher, but quit when I was 24 and went Bangkok to make fancy dresses for kids. Not long after that I launched my career organizing parties for children, and that gradually expanded into organizing large corporate functions, weddings and baby showers. Alongside that, we recently started Rentals as the event planning got to be too much. This is a rental company specialized in supplying affordable luxury party goods."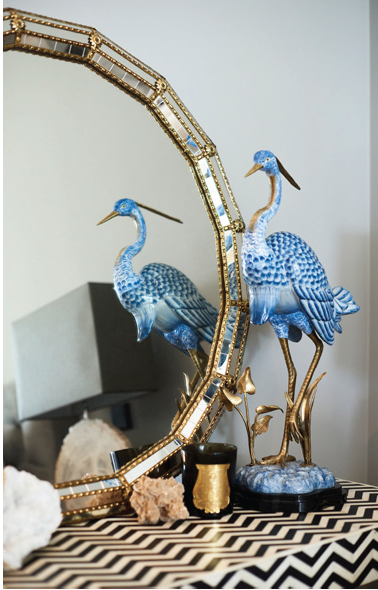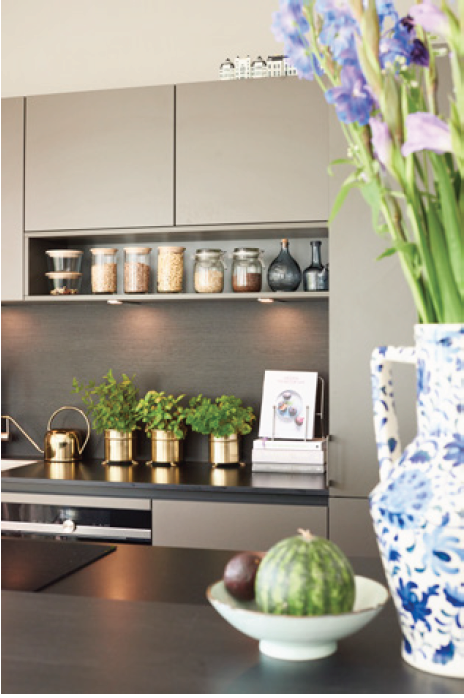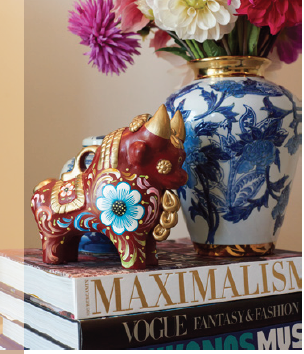 How did you wind up in Zuidas?
"Before this I lived in Amsterdam Zuid for a while with my then partner, but after 13 years together, we called it quits. Straight away, I had my heart set on living in Valley. And I am so incredibly happy that I managed to land one of these apartments. Valley is unlike any other building or concept in the Netherlands. I'm in love with the cosmopolitan vibe. So, from the moment I knew I'd have to move, there could be only one contender."
What do you love about living here?
"Living in Valley gives me a brilliant start and end to every day. The high-end service and reception are just amazing. That makes it super safe, as everyone has to sign in downstairs. When I have visitors, they ring me and give them a card for the amount of time they're allowed to go up. Parcels can be dropped off at reception or in a private box. The building also has five restaurants and a sandwich shop, parking below ground and a gym, sauna and swimming pool. It has every comfort and convenience, which is brilliant for a busy lifestyle. I also love the buzz in Zuidas, with all the local restaurants and bars. It's easy to get everywhere by public transport, and by car it's a straight shot to the motorway, except around four or five on weekday afternoons, haha."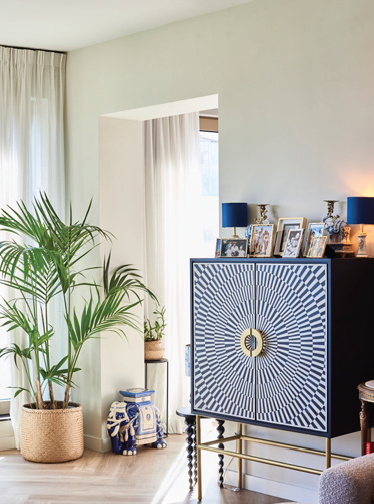 What is the inspiration for your interior?
"I like pairing antique and modern, like the antique chest of drawers next to my sofa with that bigger one by a modern designer. And I'm a big fan of cushions by Palais, which I've got on the sofas indoors and out. And patterns, too, which add some unique character. I also like to bring back things from my travels."
Name Hella Huizinga
Age 40
Lives in Valley
Favourite spot at home My balcony, the bar stools in my kitchen and, to relax, my bathtub or bedroom.
Favourite spot in Zuidas I'm a regular at Ferilli's, because I love Italian food and know the owner, Carlo, well. I organized his wedding. In the evening, I like going to Nela for drinks, and to start the day a green juice and great coffee at Cora Delicatessen.