Zuidas Architecture: Tower Ten
Zuidas is renowned for its pioneering architecture. As it matures into an international quarter of Amsterdam, buildings are shooting up right and left in Zuidas. Amidst all these modern skyscrapers, it may be difficult to imagine that just about 20 years ago this stretch of land connecting the residential neighbourhoods of Zuid and Buitenveldert consisted mostly of tennis courts and football pitches. In this series we zoom in on the architecture of Zuidas. This time, we take a closer look at WTC Tower Ten.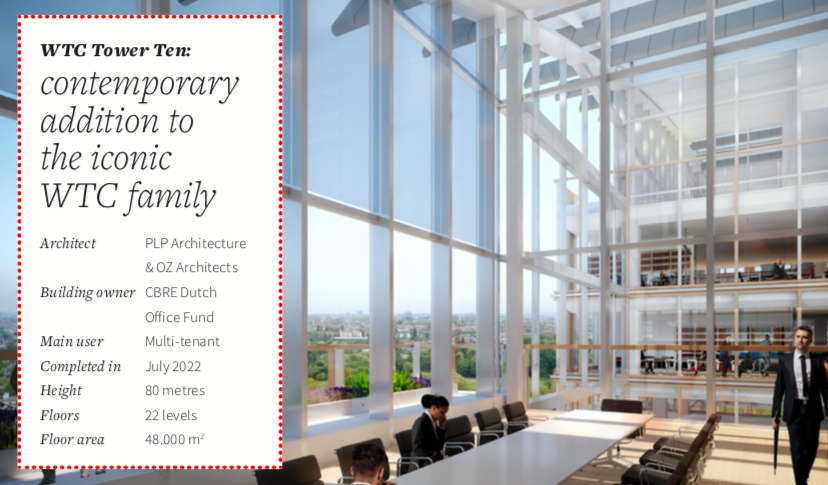 Zuidas has continued to grow in recent years, adding everything from office space to housing and shops. But existing offices can outgrow their premises too, like the WTC building that has become such a familiar Zuidas landmark. That's why it was decided a few years ago to add a new tower: Tower Ten. A contemporary office tower designed and built to the latest sustainability targets, architecturally it shares many of the same features that characterize its elder brothers. Hence, sustainability, health and flexibility are paramount. Tower Ten also brings something new to what was above all a stately and formal office edifice, in the shape of a new balance between work, interaction and relaxation. This is reflected in the interior layout and furnishing of the office spaces, where keywords are spaciousness and transparency. But that's not all.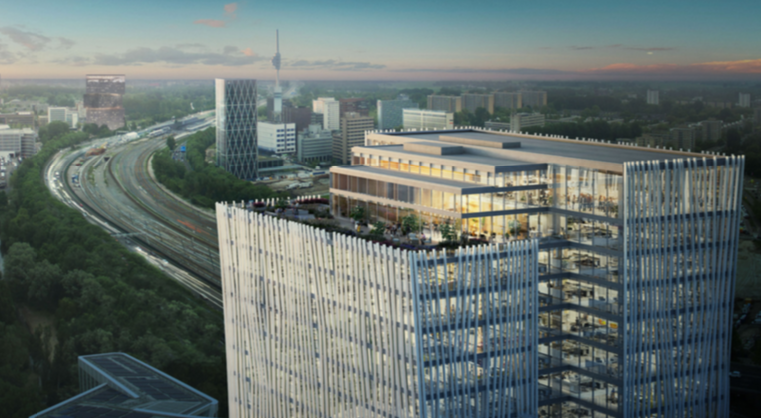 The building also boasts a variety of outdoor areas and terraces, where users can hold meetings or gather simply to relax. From the outside, the most striking feature of Tower Ten is a lower section rising to 35 metres, which will be capped with an undulating roof of steel and glass. Visually, these light, sleek, rippling rooftops help tie all the WTC towers together. Tower Ten will add another 48,000 m2 to the whole complex. While the uppermost floors are slated chiefly for offices, the two bottom levels will accommodate eateries and cafés, a meeting center, a business center and options for various other commercial units comparable to the interior arrangement of the existing WTC building. All in all, it's a contemporary addition to the familiar and iconic WTC family.