Q Residences is a new-build project nearing completion at the edge of Zuidas. The project consists of two buildings: Quartz and its lower alter ego Qube. Situated on the corner of Buitenveldertselaan and Van Nijenrodeweg, the location is spacious and light-filled with plenty of greenery, offers fast connections by road and public transportation and has excellent schools, fitness and recreational amenities nearby. All of which make Q Residences an exceptional project!
Maurice Meijer, commercial manager - residential at Kroonenberg Groep: "Q Residences combines a perfect location with high-end architectural design. Quartz, the northern high-rise, is set to be a real landmark. The iconic design is by Studio Gang, one of the world's most renowned architecture firms. The low-rise Qube, to the south, completes the picture. The new residential complex has 248 rental units in its two buildings flanking an elegantly landscaped plaza, plus space for dining, lifestyle and retail on the ground floor and some 130 parking spaces in the underground car park. Q Residences overlooks the Gijsbrecht van Aemstel Park and its tree-lined surroundings, and Amsterdamse Bos is just a stone's throw away. Residing here means relaxed living with metropolitan hotspots just a stroll or bike ride away"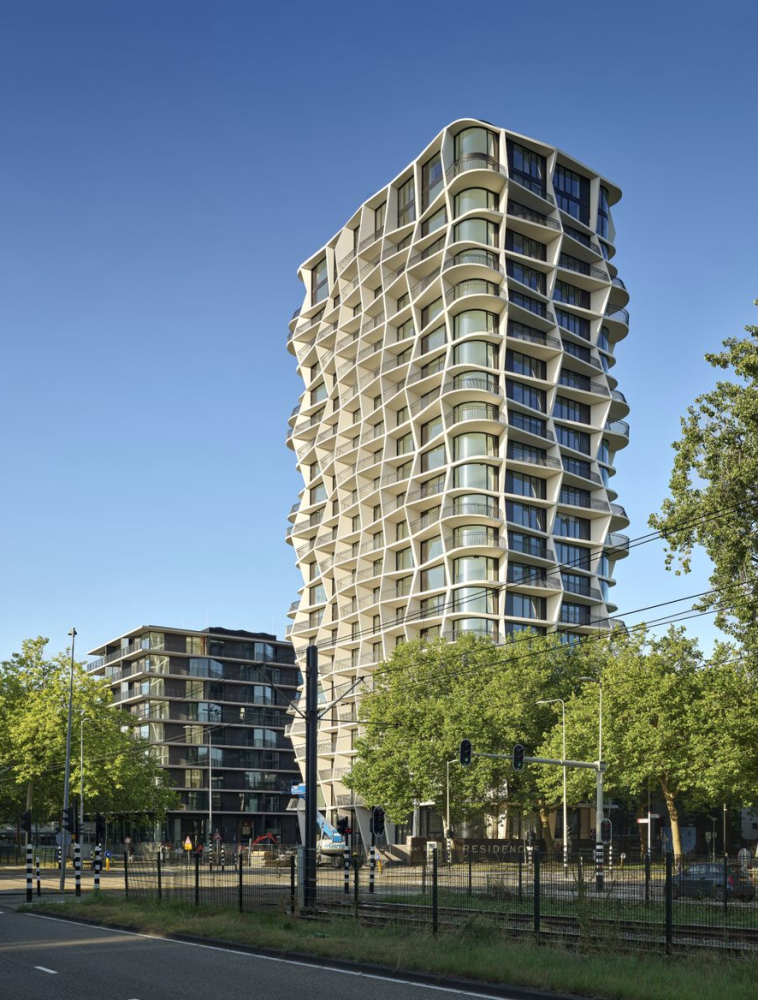 Ramón Mossel, owner of real estate agency Ramón Mossel Makelaardij: "All kinds of features throughout the building add value for residents, the neighbourhood and city. Q Residences is about shaping the best possible living experience. Everything contributes, from the building's personality to the detailing of public spaces inside and outside. Q Residences is truly an exceptional addition to this area. Every home is delivered as good as finished and excels in luxury design choices, including a top-of-the-line kitchen, light-filled tiled bathroom and of course underfloor heating. The same goes for the entrance and public areas, where special attention has been paid to the materials of all the interior elements. Quartz also has a reception desk staffed 24/7. People want to feel at home. By offering quality and service, what would be an anonymous building becomes personal."
Facts
• The planting design is by the Netherlands' foremost landscape architect, Piet Oudolf.
• Several art objects and designs have been created for the public areas, including the stunning light sculpture by Studio Molen that greets residents inside the foyer. • Quartz is deliberately set back slightly from the pavement to create an open square out front, similar to iconic skyscrapers in major metropolises like Chicago and New York.
• The undulating façades make Quartz feel almost cuddly, creating a soothing sensory counterpoint to modern-day digital life.
For more information please visit: www.q-residences.nl.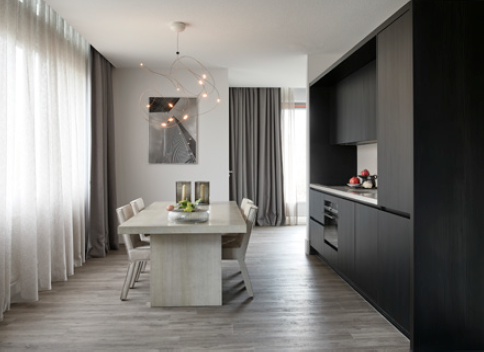 Address Buitenveldertselaan 66-96 1082 KM Amsterdam
Architect Jeanne Gang of Chicago-based architecture firm Studio Gang
Developer Kroonenberg Groep in collaboration with NEOO
Contractor J.P. van Eesteren
Completed in 2022
Floors Quartz: 23, Qube: 8
Height Quartz: 75 metres Qube: 30 metres