Address Fred. Roeskestraat 96
Architects Gerrit Rietveld, Benthem Crouwel and Fedlev team (Pauline Bremmer, a.o.)
Completed 1966, 2003 and 2019
With this issue of Hello Zuidas zooming in on the topic of talent, we decided to take a closer look in this section at the Rietveld Building, home to the Gerrit Rietveld Academie, or Rietveld School of Art & Design. On the campus are a further two education buildings: the Benthem Crouwel Building and the Fedlev Building.
Benthem Crouwel Building
The Academy's second building is a 2003 expansion by Benthem Crouwel Architects. The north side of this building houses studio spaces, while the south face is reserved for offices. On the ground floor is a reception area. The south and east façades are built up of cast glass elements, numbering some 16,000 in all.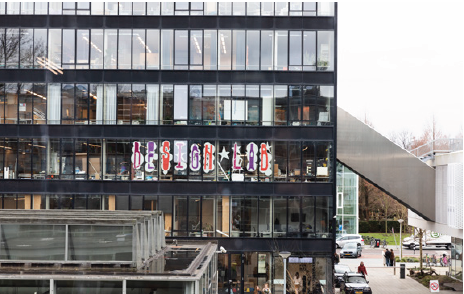 Fedlev Building
The third building on the Rietveld campus ties the existing buildings and spaces together into a cohesive complex. The Fedlev Building as a whole has been in use since January 2019, marking the first time in the school's history that all of the departments, including master's programmes at the Sandberg Institute, have been based at the same location. In this building are facilities including the library, woodworking shop, assembly hall, robotics workshop, various project spaces and an auditorium. The Sandberg Institute occupies the first floor of this new building.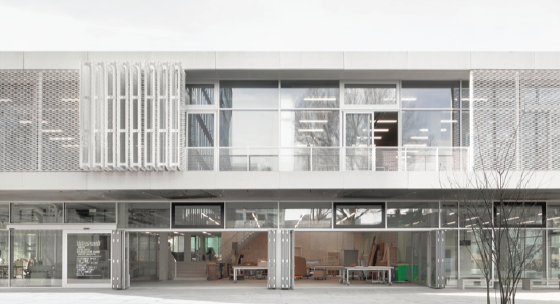 Rietveld Building
The main building was designed by architect and furniture designer Gerrit Rietveld between 1950 and 1963 and completed in 1966. It is the largest of Gerrit Rietveld's buildings. Gerrit Rietveld did not live to see the building's completion, as he passed away while construction was still going on. The name of the school was changed to the Gerrit Rietveld Academie in honour of Rietveld in 1968.