As one of the first residential blocks in Zuidas, the Django Building marked the beginning of the district's transition into a mixed-use urban location. The building occupies parcel 8 of the Gershwin site, which was the first part of the Zuidas development area to concentrate on housing.
Address Gustav Mahlerplein 120-220, Gustav Mahlerlaan 411-523
Architect KCAP
Developer Consortium Royaal Zuid
Floor area 15,000 m²
Completed in 2010
Floors 9
Height 32 m
The building's main entrance is on Gustav Mahlerlaan. It contains 108 rental apartments, six commercial spaces and a single-level underground car park. The programme spans 15,000 m² divided over two building sections, with a recessed courtyard garden and multiple rooftop terraces.
The complex was developed by Consortium Royaal Zuid, consisting of Era Contour, Prospect Zuidas and Bouwfonds Ontwikkeling. The design is by the architectural firm KCAP. Of the total floor area, 13,000 m² is zoned for housing and the other 2,000 m² for commercial use. Businesses based at the street level include Van de Veer dental practice, Het Zwarte Fietsenplan, The Breakfast Club, Limon and several other cafés and restaurants.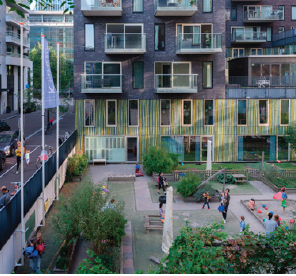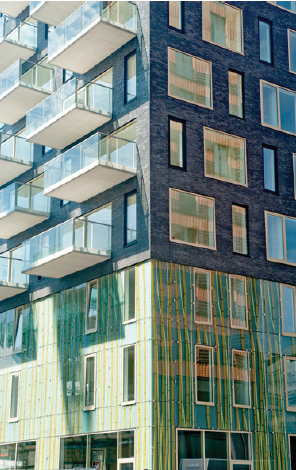 'We wanted to go deep'
With its nine storeys, Django is relatively low compared to surrounding towers such as the 29-storey Amsterdam Symphony, next door. "In Zuidas, everything goes upwards. By contrast, we wanted to go deep, by creating an intimate green garden amid the concrete construction", Han van den Born, one of the architects, said of the design. Another interesting architectural feature is the green and blue-toned printed glass façade ornamenting the two bottom floors.
All of the apartments are oriented in two directions and have floor-to-ceiling windows. The building uses innovative thermal energy storage with a closed source system, making the building highly sustainable.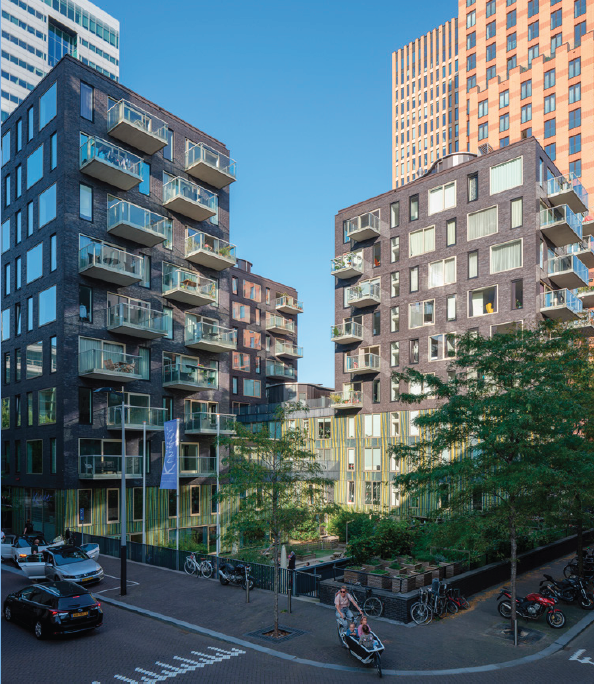 Facts
• Django Building occupies lot 8 of Zuidas' Gershwin district, one of the first residential blocks in Zuidas to be developed.
• With its nine storeys, the Django Building is the lowest city block between the 29-storey twin tower Amsterdam Symphony and the 20-storey Duke Tower.