The Atrium has dominated the corner of Strawinskylaan and Parnassusweg from the earliest days of Zuidas' development. More recently, the launch of the City's Zuidasdok project kicked off the area's transformation into a dynamic mixed-use urban district with a higher building density. New access roads and connections put the Atrium at the heart of this redevelopment plan. To fit in with its fast-changing urban setting, the Atrium needed a makeover. MVSA Architects' expansion with two new towers created 21,000 m² of additional office space. Vast and transparent, the refurbished Atrium is a building that offers optimal spaces to work, meet and relax. A place where visitors effortlessly feel at home.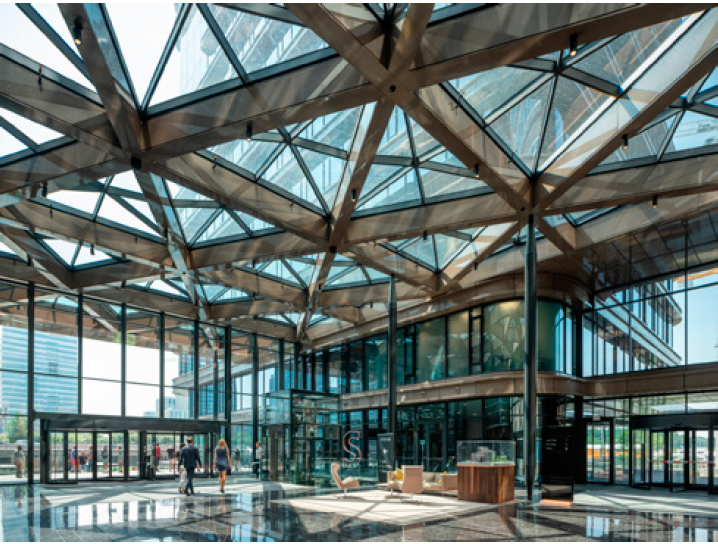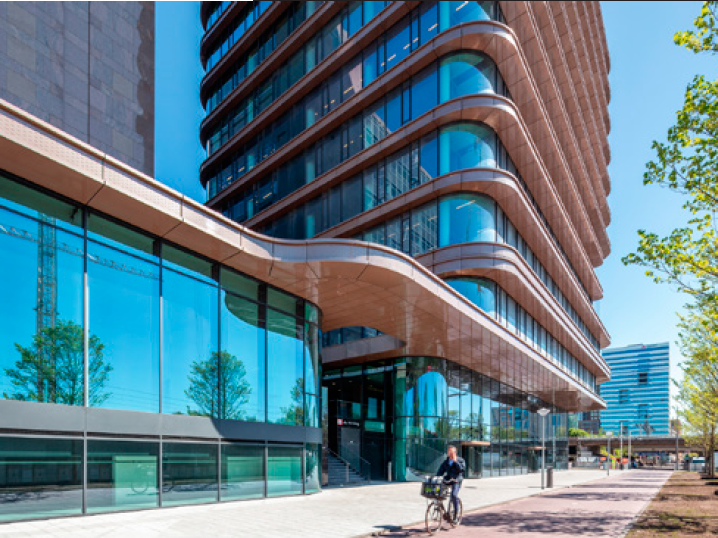 Unique transparency
The Atrium has always been an unusual building, characterized by its unique transparency, most noticeable in the large open spaces – the atria – that bathe the interior in daylight. Also unique are the vast expanses of floor space, up to 4,500 m2 in places. The new towers and canopies 'embrace' the original building. Having started out with three atria, the renovated complex now has five, with the two added atria acting to bridge the old structure and new sections. Use of robust, sustainable materials and a coordinated colour palette give the whole building a uniform and elegant look and feel, inside and out.

One key aspect of the renovation was adapting public spaces along the base to entice visitors to engage with the building. The ground floor has restaurants, cafés and shops, catering to visitors as well as tenants. The Atrium also has a variety of extra facilities and amenities for tenants, including extensive conference and meeting spaces, dry cleaning and car wash services, a large gym and a good employee restaurant.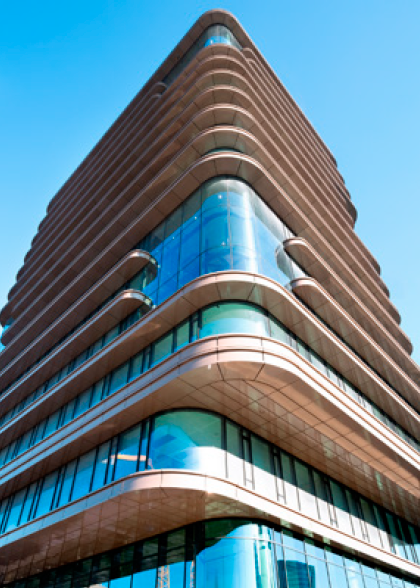 Facts
• Built in 1976, the Atrium is one of the oldest buildings in Zuidas.
• The new towers boast gorgeous courtyard gardens planted across several corner sections over two or three storeys, which are also visible from outside. All of the rooftops are green.
• The new towers, erected on top of the parking garage, have twin atria and meandering aluminium canopies that reach out to embrace the original building. |• The design of the new section was awarded a rating of BREEAM Excellent. The building contributes to a healthier environment and reduces energy costs for its tenants.