Amsterdam UMC Imaging Center
Address: Van der Boechorststraat 6A, Amsterdam
Architect: Wiegerinck*
Developer: Amsterdam UMC
Main user: Amsterdam UMC
Completed in: 2019
Floors: 5
Floor area: 18,100 m2 GFA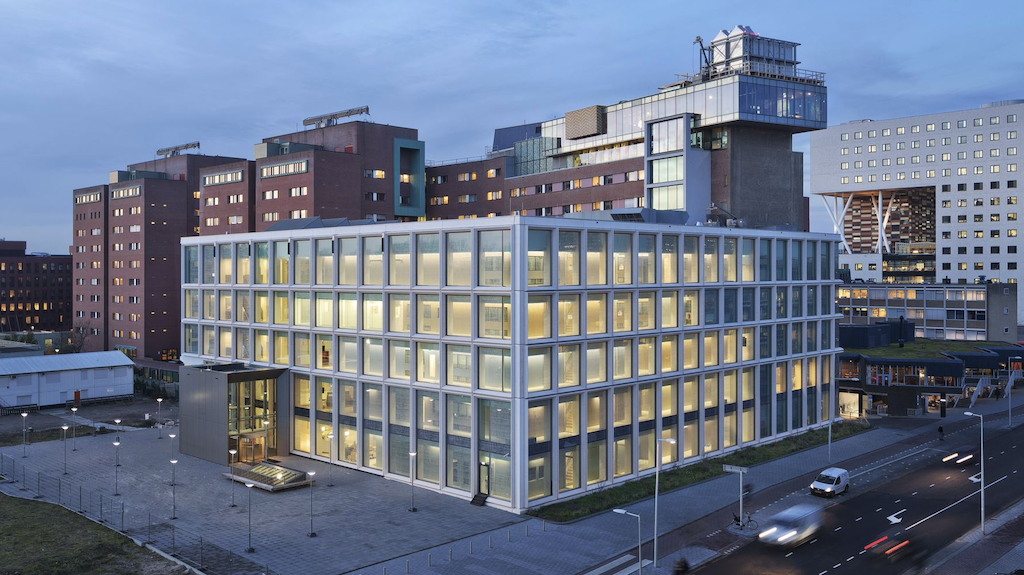 The Amsterdam UMC Imaging Center adds unique features to the national health and life sciences cluster. First, it is by far the biggest concentration of cutting-edge medical imaging techniques available in Europe, which enables reduced waiting lists, early diagnosis, and treatment selection, as well as a better clinical treatment. Second, because of the availability of the latest innovations in diagnosis-support, radiologists and nuclear physicians are able to look with more detail into the anatomical structures and physiological, metabolic and molecular processes of the human body. This enables them to select the right treatment for the right patient at the right time. Third, a uniquely equipped lab is created to speed up medical and pharmaceutical research and cutting the costs of development of new medicines and treatments. Fourth, a well-established radiopharmaceutical manufacturer ensures the availability of medical isotopes.
Cyclotrons produce medical isotopes, which makes the Imaging Center fully self-sufficient. Moreover, these cyclotrons are providing tracers for over 50,000 patients treated in Dutch hospitals annually.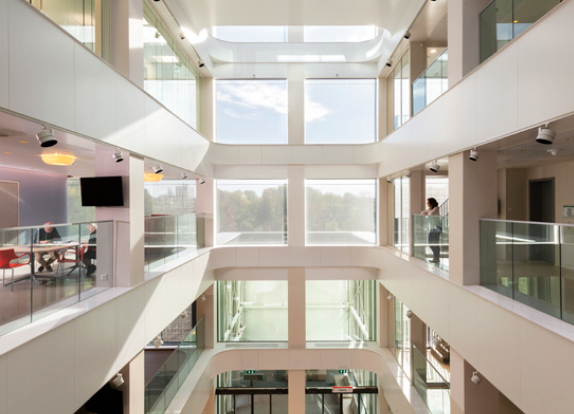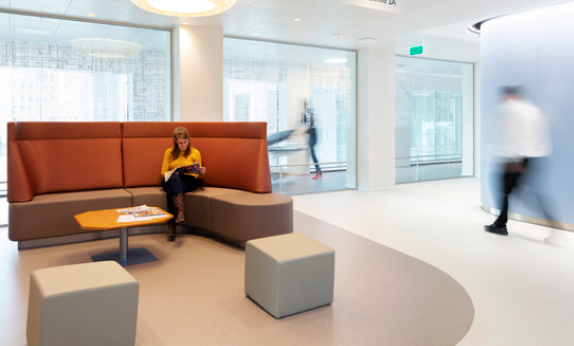 Medical tracers are produced at the Tracer Center Amsterdam. They are used to trace diseases on a molecular level and in real time, to follow the medicines in the body during treatment, and to observe its reactions to treatment. In the VULaserLab cutting edge optical laser techniques are developed, a speciality for which Amsterdam UMC is known worldwide.
Because of the concentration of special capabilities, skills and technologies, the Imaging Center is a magnet for international collaboration. Pharmaceutical companies are able to accelerate the development process of drugs and treatments by picking up those with highest potential for medical impact. Also, it enables them to establish if a medicine is not doing what it is expected to do, at an early stage. The anticipated development process will be shortened by a couple of years on average.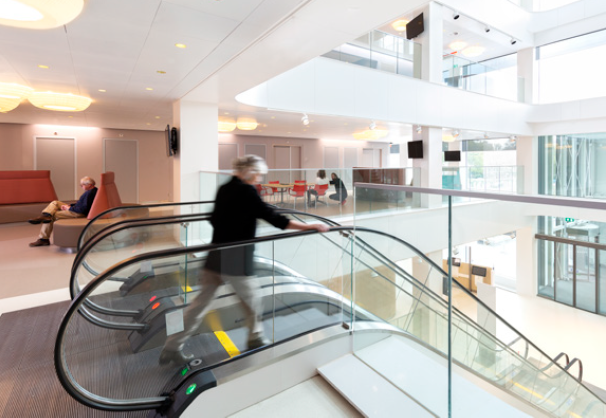 *Extra information
Contractors • De Beeldbouwers VOF (Ballast Nedam and ULC Groep Consortium) Consultants • Wiegerinck (lead architect)
• AT Osborne (Project management tendering stage)
• Ptg advies (Project management executing stage)
• D/Dock (interior architect)
• Royal HaskoningDHV (systems / structures / building physics consultancy),
• IBS (facade technology consultancy)
• Olivier + Partners (architect Cyclotron bunkers and GMP)
• Peutz (acoustics and fire safety consultancy)
• Studio Hartzema (urban development supervisor + colonnade design)