"Above all, I hope to be pleasantly surprised by innovative ideas."
For the second edition of the Zuidas Sustainability Award, the organizers managed to recruit the distinguished Dr. Andy van den Dobbelsteen to join the judging panel. Andy van den Dobbelsteen is professor of Climate Design and Sustainability, as well as sustainability coordinator at TU Delft, where he's been teaching students about sustainable construction engineering for almost thirty years. "My principal mission is to transmit knowledge and information and show them all the sustainable solutions that are out there."
With former Minister for the Environment Jacqueline Cramer no longer on the judging panel, the award's organizers (Hello Zuidas, Green Business Club and the Amsterdam-Zuidas district) went in search of a suitable replacement. They are delighted that Prof. van den Dobbelsteen will be lending his expert vision and climate and sustainability experience to the panel.
Urban nature
"My work concerns the whole spectrum of sustainability. That starts with energy-neutral design, climate adaptation and circular construction. Fortunately, biodiversity and nature-inclusive urban environments are gaining increasing attention. We – engineers, too – really need to think hard and differently about bringing more nature into our cities", notes Prof. van den Dobbelsteen.
Looking at Zuidas, he observes that several features stand out. "Zuidas has a high density of stone. To me, that says mountainous ecotype. It's a concrete environment with a lot of tall buildings. Vertical nature such as façade planting and nesting boxes would fit well with that, cooling the area down and helping to retain rainwater. We have to set our sights on more than just bricks and mortar and square footage."
World-class
When asked which building is the most pioneering in Zuidas, Prof. van den Dobbelsteen doesn't have to think long. "CIRCL, but I'm sad to hear it's being torn down. So, then I'd have to say Valley designed by Winy Maas from MVRDV and landscaped by Piet Oudolf. That's a real world-class building. Architecturally, it's very striking. Urban nature is a deliberate part of the design. It's a high-rise, yet with green terraces on the inside."
Energy-neutral design
Nature is playing an increasingly important role in designs, according to Prof. van den Dobbelsteen. Take Valley, he says. "It looks like a rock formation: a mountain cut by a valley. Maas designed the building to be a large, overgrown green place. I hope to see more of this type of buildings built in Zuidas. It reminds me of the Bosco Verticale tower in Milan, which has trees planted all around the exterior. That planting provides natural air conditioning. We'll have to wait and see what the climate gains are here. The vegetation still needs to grow, but it would be brilliant to measure that in time. I'm very curious about how Valley rates on the whole equation of energy, water, materials and nature.
More is better
All in all, the professor thinks there is plenty of room to do better. "Zuidas is an urban heat island. The stone heats up, there's not much vegetation, not much habitat for wildlife and not much flowing water. At the moment, the only green oasis is CIRCL. Zuidas can do better! Amsterdam-Zuid and Amstelveen are reasonably green areas, with biodiversity, cooling and insulation. But developers tend to find that scary and risky. Even though more vegetation makes it more appealing for users as well. I hope the City of Amsterdam will lay down some serious sustainability requirements for new tower blocks."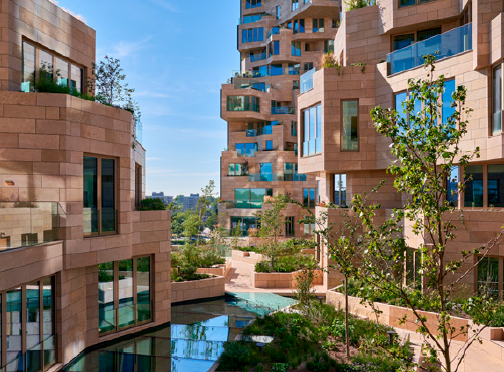 Sustainability Award
Prof. van den Dobbelsteen is looking forward to seeing all the entries and initiatives in Zuidas. "Above all, I hope to be pleasantly surprised by innovative ideas. The bar is set high!" Laughing, he continues, "I am going to be tough on developers in Zuidas. I'm interested to see their views on sustainability and am hoping for some original ideas. Zuidas has lots of façades and few roofs, but loads of opportunities. We could imagine Zuidas as a forest and approach it in a more ecological fashion."
Future
The professor has a clear message for property developers: "We need to start thinking as if it's 2050! The transition to energy-neutral, climate adaptive and circular urban locations is progressing way too slowly. Let's try putting up buildings that are made for that future. That's the mentality I want to see among builders and developers."