ZUIDAS POWERING AMSTERDAM METRO AREA REGIONAL FOOD SYSTEM ROLL-OUT
Over the past two years, Local2Local has been working with the City of Amsterdam, Hello Zuidas, Amsterdam University of Applied Sciences, the provinces of Flevoland and Noord-Holland and over a 100 other partners on a series of high-profile initiatives exploring how to make the Amsterdam Metropolitan Area's ambitions for a robust regional food system a reality.
The war in Ukraine and geopolitical developments in neighbouring countries over recent months paint a stark picture: the food supply chain we long took for granted has very rapidly come under extreme pressure. Building a locally and regionally connected food system is more urgent than ever.
Inspiration
The Dutch capital has had a head start in the food transition. Efforts to switch to local, sustainable, healthy food have been underway for several years. By 2030, local products are projected to constitute 25% of the food market in the Amsterdam Metropolitan Area.
One of the highlights of this trajectory was celebrated at CIRCL in October last year, with the presentation of the farmers cooperatives and partners to customers in Zuidas, in association with Hello Zuidas. Themed the shortest road from farmer to caterer, the event was all about bringing healthy, fair and sustainable products to workers in Zuidas. It also marked the launch of the reverse marketplace Let's Get Local.

Activation
On 3 December 2021, Local2Local closed the inspiration phase with a series of farm-table discussions at the Floriade Forum and the presentation of some stellar results:
• More than 400 farmers united in 7 short food supply chains, plus full and imme- diately scalable food supply for the whole AMA and much of the Randstad region.
• A widely supported consortium of more than 120 members, including government, farms, education institutions, caterers, business networks and other organizations.
• This network covers Noord-Holland and neighbouring provinces of Flevoland ('the garden of Amsterdam'), Utrecht, Gelderland, Zuid-Holland and the Wadden Islands.
• An online commerce and data platform supporting all short supply chains.
Mark Frederiks of Local2Local kicked off the activation phase, officially inviting partners to actively contribute to building the regional food system.
Co-creation
A series of co-creation sessions with con- sortium partners last month included a meeting at the Atrium in Zuidas. Green Business Club, Hello Zuidas, Amsterdam Metropolitan Area Food Council, Impact Hub Amsterdam, VU Amsterdam, Aeres University of Applied Sciences, Rotterdam University of Applied Sciences, Amsterdam University of Applied Sciences, De Oer, home healthcare provider Omring, Dapper Texel, Food Hub, the Flevofood association, ABN AMRO, Local2Local and Amsterdam's sole sustainable fishery, Hendrik Kramer, convened to discuss practical routes to achieving their shared ambitions, and to express their commitment to working together.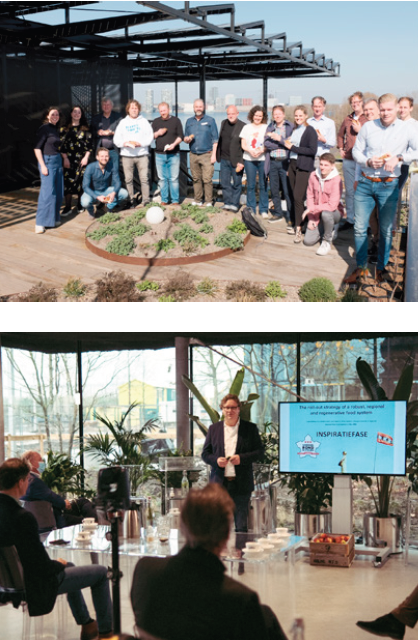 For participants, these co-creation sessions offered fresh insights, inspiration and, above all, motivation to be an active part of the plan roll-out. With participants including the City of Amsterdam, provinces of Noord-Holland and Flevoland, Rabobank and the Amsterdam Institute, this has become a formidable movement.
The consortium is currently putting together a networking event at the Floriade Expo 2022 on 8 June, for which registration will open shortly.