Shared mobility is the future!
From Van A tot Zuidas*, Hello Zuidas is currently discussing shared mobility topics, such as shared mobility supply and demand, in regard to commercial, office and car parking premises. We are also investigating the current demands and future trends among organizations that already make use of shared mobility, or want to engage in it. If you are interested in this topic, get in touch with Rinske Berg, Mobility & Accessibility project manager: rinske.berg@hellozuidas.com.
On the 3rd of June Hello Zuidas facilitated the Facility Management platform, an event that focused on shared mobility, with great success. The attendees enjoyed participating in a program where speakers from the City of Amsterdam, Amaze Mobility, Breikers, GoAbout and Felyx were giving their insights on the latest happenings. How do you travel to Zuidas? Do you ever scooter, bike or car-share? Sharing is the future, but it raises questions, too.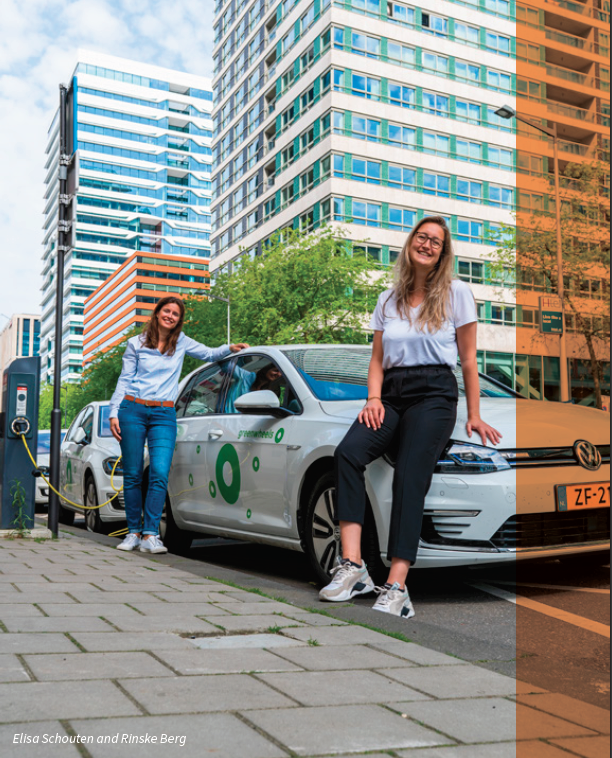 During the meeting, the City of Amsterdam shared its vision on mobility, which is 100% convinced that shared mobility is the way to relieve congestion in the city and create a more sustainable living environment. Attendees wondered whether this may lead to an increase of shared cars in public spaces. Short answer: No. The City believes that shared cars will be parked not only along streets, but also on private premises and in car parks. This has some advantages for not only private people, but also for businesses and organizations. Apart from the financial perks, shared mobility brings additional benefits. Figures show that every shared car frees up two parking spaces on business premises and replaces ten private cars.
Another easy and equally fast way to get around Zuidas, is to grab a shared bike or scooter. Felyx's shared scooter fleet is offered in different public areas and equipped with helmets for a safe ride. The City will contract a bike sharing company shortly after the summer. This means that Zuidas will also benefit from the shared bicycle projects.
With all the shared transport options out there, obviously it is essential that employers support this initiative as well. The Van A tot Zuidas platform can assist your organization with taking the first steps towards shared mobility. In September, we'll be holding a webinar for all employers to offer guidelines for the introduction of shared mobility in their - perhaps your! - organization.
Thanks to the cooperation between Van A tot Zuidas and Hello Zuidas members, this edition of the Facility Management platform turned into a great success. Do you want to join our platform event next time or suggest an interesting topic for the agenda? Become a member now, and get in touch with Elisa Schouten, chairperson of the Facility Management platform: elisa.schouten@hellozuidas.com.
* Van A tot Zuidas is a platform in which Green Business Club Zuidas, ORAM, Taskforce Bereikbaarheid Zuidas, Gemeente Amsterdam Zuidas, Bycs, Breikers and Hello Zuidas are working together to promote sustainable mobility to and from Zuidas. More information: vanatotzuidas.nl.